Prudential Enters Into Strategic Partnership with Halodoc to Expand Healthcare Access in Indonesia
Jakarta, 1 August 2019 – PT Prudential Life Assurance ("Prudential"), a business unit of Prudential Corporation Asia, today announced a strategic partnership with Halodoc, Indonesia's homegrown online healthcare startup.
Alongside the partnership with Halodoc, Prudential is making a strategic investment in the company to help deliver digital solutions that will meet a critical need for affordable and accessible healthcare in Indonesia, which has over 260 million people.
Prudential is the largest life insurer in Indonesia[1] with over two million customers, an industry-leading agency force of over 250,000 agents and more than 400 offices across the country. Halodoc, established in 2016, serves around seven million people per month, connecting them online with 22,000 doctors and over 1,000 pharmacies, as well as providing a pharmacy delivery service across 50 cities.
Halodoc's telemedicine services will form part of Prudential's digital platform that will soon launch in Indonesia. Consumers will be able to consult with doctors online, purchase and arrange delivery of their prescriptions, book laboratory tests, get a second opinion from other physicians, and schedule appointments at hospitals within the PRUmedical Network – all on one mobile app. Prudential's digital platform will also include other value-added services that will appeal to Indonesia's rising number of mobile internet users, who today account for about 53% of the population, or 142.8 million people.[2]
Mr. Nic Nicandrou, Chief Executive of Prudential Corporation Asia, said, "Prudential and Halodoc share a vision of bringing affordable and accessible healthcare to millions of people, at a scale that's never been done before. This strategic partnership is an important step towards that vision and is integral to Prudential's delivery of revolutionary digital healthcare in Indonesia.
"Across Asia, we are also working with local and regional partners to launch our digital platform in 10 other markets. This platform will support consumers in every stage of their health and wellness journey and provide them with end-to-end services – all in a single app."
Prudential and Halodoc's digital health initiatives will help address Indonesia's broader healthcare challenges, such as geographic barriers and a low doctor-to-population ratio. In 2017, the country only had three doctors for every 10,000 people, compared with over 20 in developed countries.[3]
Mr. Jens Reisch, President Director of Prudential Indonesia, said, "We are delighted to be partnering with Halodoc. It is an excellent opportunity for us to work with a company that shares our vision and commitment of helping to improve the lives of all Indonesians. In support of the government's goal of quality healthcare for all, Prudential and Halodoc are committed to bringing the best health and insurance services to customers not just in cities but across rural areas too."
Jonathan Sudharta, Chief Executive Officer of Halodoc, said, "We are delighted to partner with Prudential in expanding our services to millions of Indonesians. We feel that Prudential is an ideal match, due to their experience and capabilities, to help Halodoc's efforts in making healthcare more inclusive for all."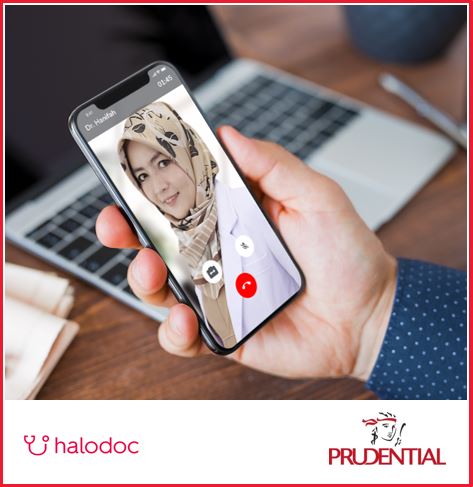 END
Note to Editors:
Prudential is launching a digital health app, Pulse by Prudential, that is the first of its kind in Asia to offer holistic health management to consumers. Using self-help tools and real-time information powered by Artificial Intelligence, the app serves as a 24/7 health and wellness partner to users, helping them prevent, postpone, and protect against the onset of diseases. Pulse by Prudential will soon be available across the region, supported by partners such as Babylon Health (symptom checker and health assessment), Tictrac (digital wellness services), Halodoc (telemedicine in Indonesia), DoctorOnCall (online consultation in Malaysia), AIME (dengue tracker in Malaysia) and Boost (e-wallet in Malaysia).
Prudential continues to build its digital ecosystem to provide a full suite of offerings to match customers' needs, from health and wellness to payments, wealth management and enterprise services. In June, Prudential signed a regional agreement with HælthTech, a specialist provider of technology solutions and operating platforms for insurers, to use its OMNI cloud-computing technology in PRUWorks by Prudential, a digital ecosystem designed for Asia's small and medium-sized enterprises (SMEs). PRUWorks launched in Indonesia in June and in Singapore last year.
Recent announcements related to the launch of the Prudential's digital ecosystem and partnerships:
About Prudential Indonesia
PT Prudential Life Assurance (Prudential Indonesia) was established in 1995 and is part of Prudential plc, London - England. In Asia, Prudential Indonesia is under Prudential Corporation Asia (PCA) regional office, which is based in Hong Kong. By combining Prudential's international experience in the life insurance sector with knowledge of local business procedures, Prudential Indonesia is committed to develop its business in Indonesia.
Having launched its first insurance products linked to investment (unit link) in 1999, Prudential Indonesia is the market leader for this product in Indonesia. Prudential Indonesia has established its Sharia Business Unit since 2007 and is trusted as the leader in Sharia life insurance market in Indonesia since its founding.
As of December 31, 2018, Prudential Indonesia has a head office in Jakarta with 6 sales offices in Bandung, Semarang, Surabaya, Denpasar, Medan and Batam and 404 Kantor Pemasaran Mandiri (KPM) throughout Indonesia. As of the end of 2018 Prudential Indonesia serves more than 2.1 million customers supported by more than 250,000 licensed sales force.
Prudential Indonesia is registered with and supervised by the Financial Services Authority (OJK).
About Halodoc
Halodoc is an online-based integrated health application that provides complete and reliable health solutions to meet users' health needs. Halodoc's application is equipped with three main features, which are Apotek Antar, a service that can help users in buying supplements, vitamins and drugs along with doctor's prescription quickly, safely and comfortably; Hubungi Dokter, a service that facilitates users to directly interact with doctors through voice calls, video calls or chat; and Lab Services, where Halodoc collaborates with Prodia in providing convenience for users to do health checks whether at home or office. In 2018, Halodoc received "The Most Innovative Start Up" award from Galen Growth Asia and was hand-picked by Forbes Indonesia as its "Choice Start Up" for the year.
[1] Largest insurer by total premiums AAJI data 2018
[2] Digital 2019 Indonesia. We Are Social and Hootsuite.
https://datareportal.com/reports/digital-2019-indonesia
[3] World Health Organisation statistics.
http://apps.who.int/gho/data/node.main.HWFGRP_0020?lang=en.